In detail
ShowK is the cutting-edge solution that allows you to present and sell your products in the best way possible. Ideal for technical, commercial and marketing offices, an all-in-one solution to tell customers, suppliers and collaborators what you sell.
Complete with CRM, technical sheets management, e-commerce and Sales Force Automation. With it you can manage everything, from pre-sales to the final order.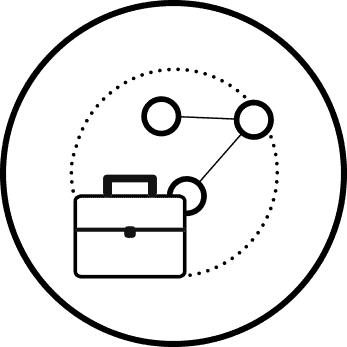 Ready to start?
See ShowK Ecommerce with your own eyes.
One of our experts will guide you through the choice, understand your peculiarities and clear your doubts.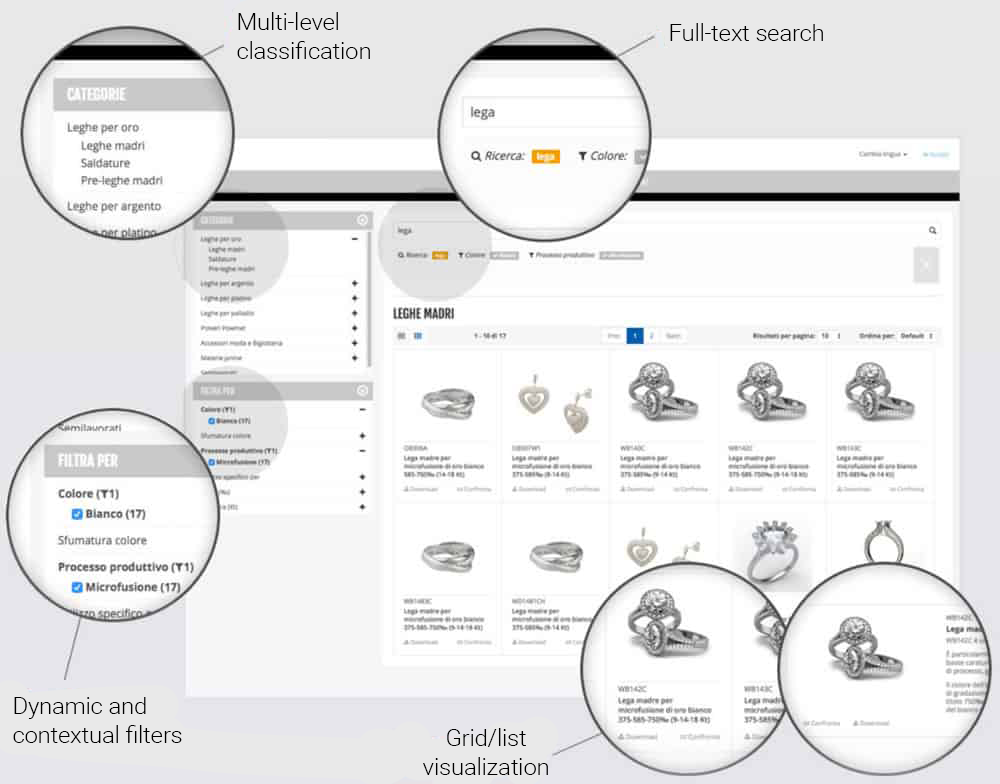 Products list
ShowK is designed to consult the products in a natural and easy way. Multi-level categories allow you to classify items, while filters help you find items based on their characteristics. 
You can do the research in full-text, so with more words and special characters, as it usually happens in search engines. With each refinement, categories, filters and results correctly adapt to the products currently displayed.
Ich spreche
Ihre Sprache…
…which means: I speak your language. ShowK is entirely multi-language and multi-market: administration, presentation and content.
Content is differentiated by market, company, language and currency. It is easy to add different information depending on region and language.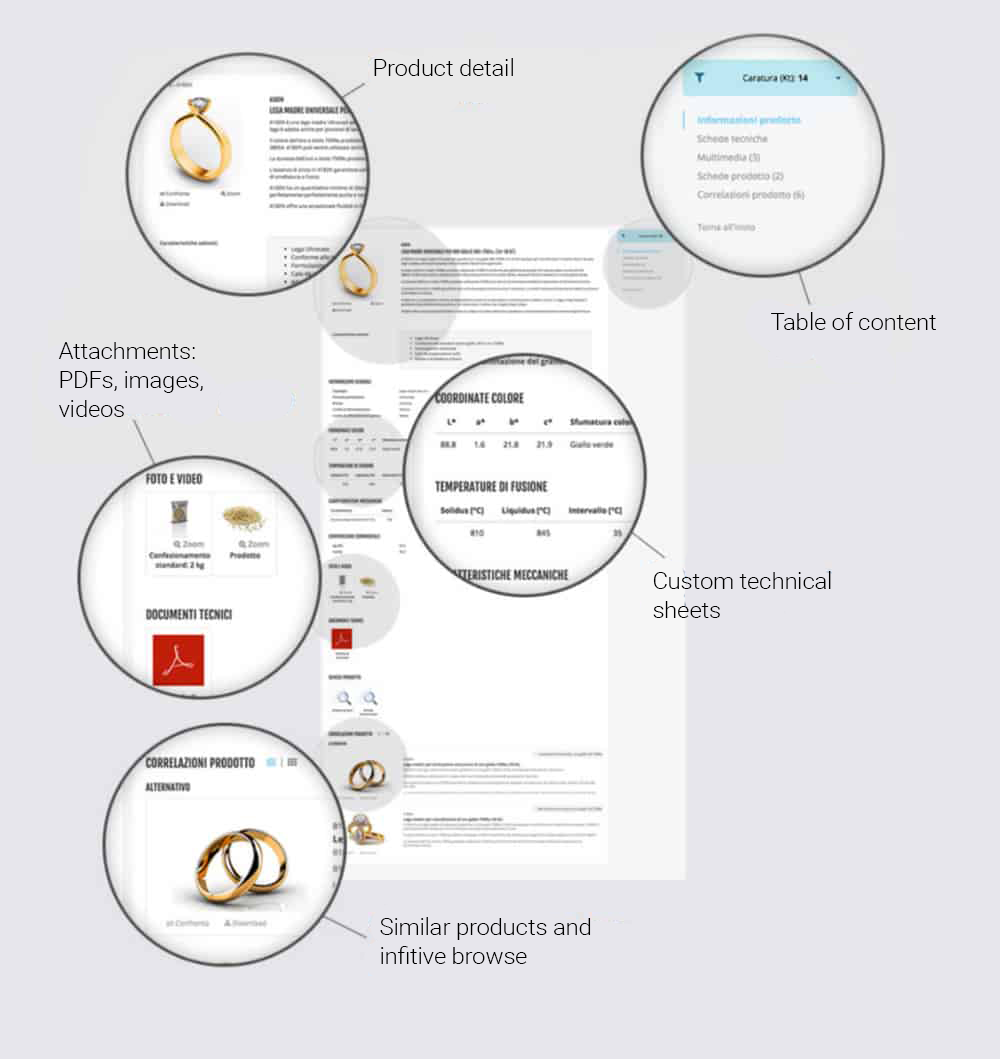 Product detail
Who can describe your products better than you? No one, and ShowK knows it! This is why it gives you all the necessary tools to do that.
In addition to a traditional product sheet, with images and descriptions, you can add customized data sheets with technical and commercial data. If this isn't enough, you can add PDFs, images and videos. 
Moreover, you can link a product with another, based on similarities such as "compatible with", "similar to", "contains", etc. You can switch from a product to another, creating an infinite navigation.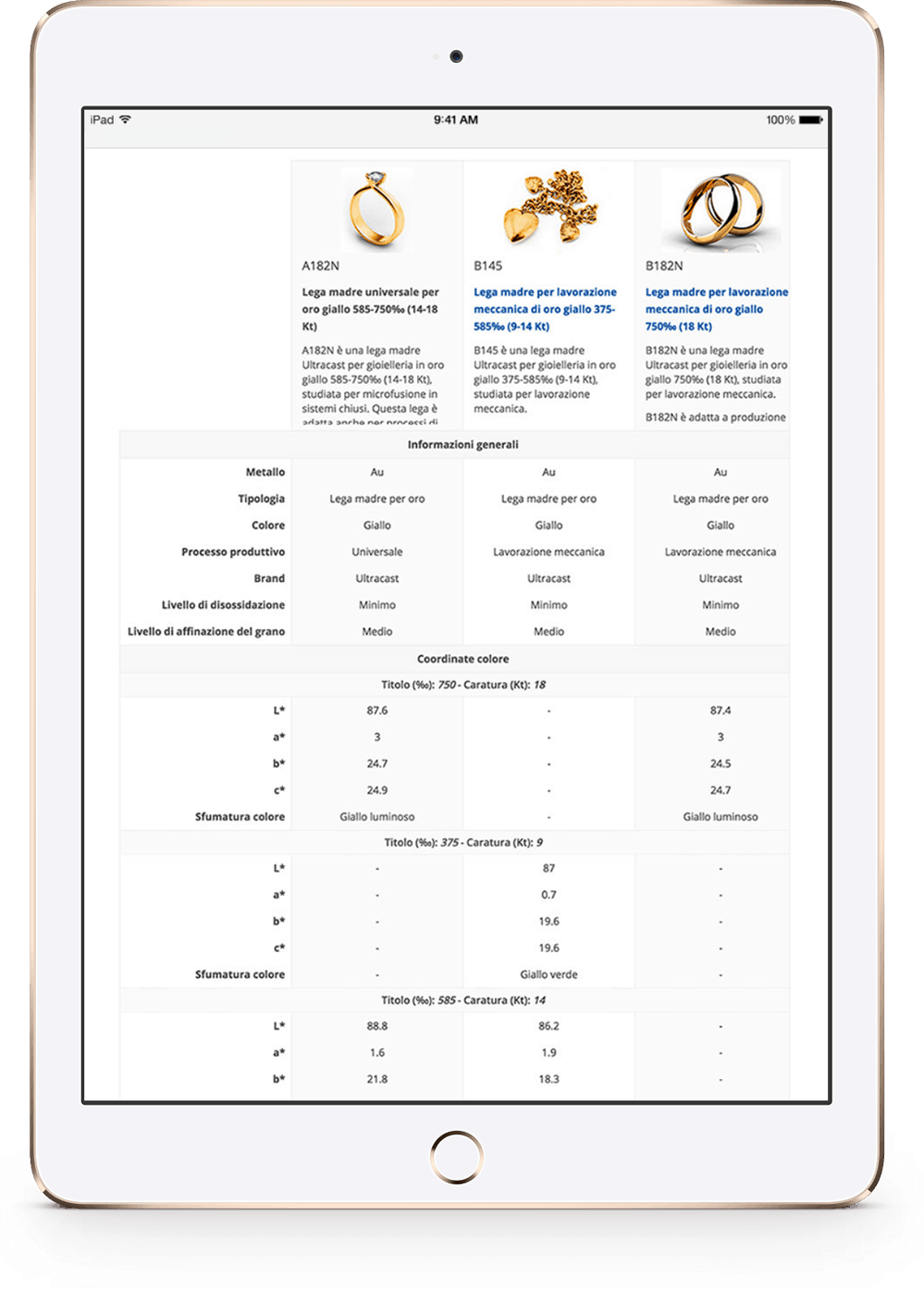 Products comparison
When defining custom sheets, you can decide which fields are important for the comparison with other products. ShowK will then automatically create a comparison table.
In this way, it will be easy to know each product's characteristics and the differences between two or more products. Everything you produce or sell will now become more familiar to your customers.
Multi-device friendly
ShowK adapts to any device. If the screen is small, it shows the most important information and, through buttons, it shows the rest. All of this to ensure maximum readability even on the smallest screen.
In touch devices, consultation is quick and effective thanks to the use of gestures. For example, in the products list on a smartphone, it is possible to open filters through a button or through swipe from left to right. The reverse operation will then close the filters window.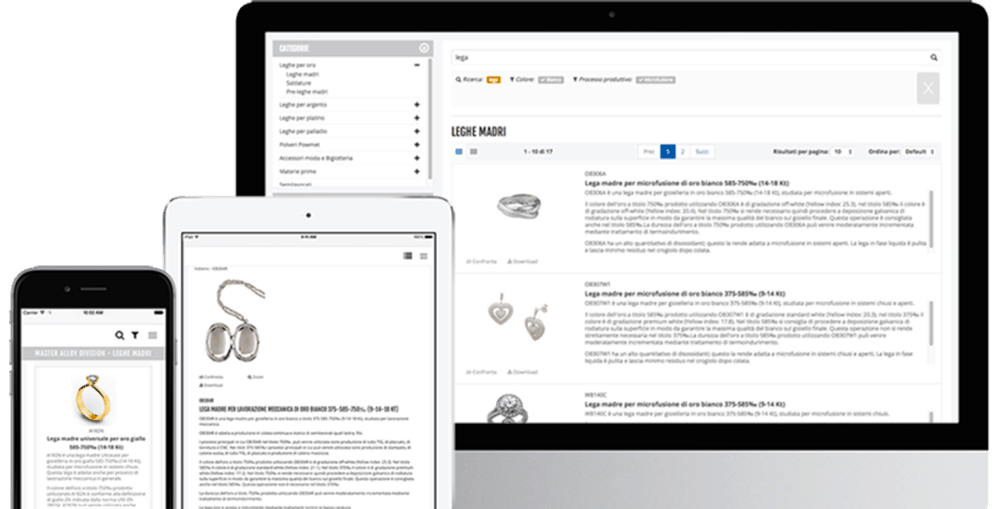 Users management and safety
Whether you belong to a small company or a multinational, ShowK is able to manage all the rules of your organizational chart. 
Different visibility rules are supported, depending on the belonging (group, branch, dealer, area manager, agent, customer, guest), as well as different permissions according to the role (admin, editor, consultation user, e-commerce user). 
The belongings and users can be associated with a different market, company, language and currency, allowing you to filter results based on the geographical area, role in the company and culture of origin. 
You can publish content, even the most confidential, in total serenity. ShowK only proposes the information that you want to show to a specific user and nothing more!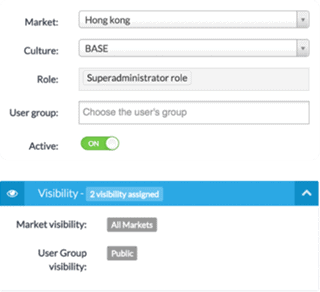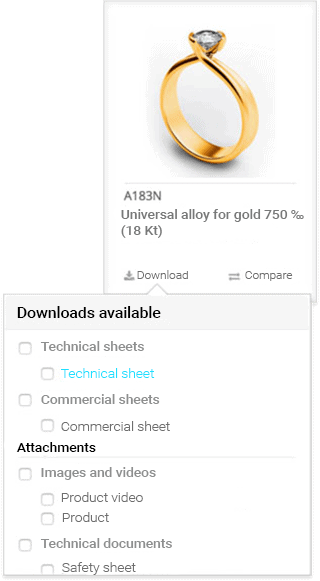 Report
How do you produce technical and commercial documents? InDesign? Word? Excel? With this approach, time and maintenance costs of reports are very high.
ShowK solves this problem. Since it contains all product data, technical and commercial sheets, and multimedia documents, the system is able to produce all the documentation you need! Our report engine is capable of generating high-quality PDFs starting from products information, generating the needed documents on-demand.
You can forget about manually managing document versions or updating the same information in different places. ShowK will take care of it! You save money, are more efficient, make fewer mistakes and relax.

Technology
ShowK is entirely developed with standard and open source technologies.

Installation
ShowK can be installed on Windows, Linux and Mac OS X, in standalone mode or in the cloud.

Indexing
Indexing on search engines can be controlled down to the smallest detail.

Ready for the Cloud!
The main cloud platforms supported are Amazon Web Services, Windows Azure, Google Cloud, and other minor ones.

Safety
ShowK uses the most recent technologies for the protection of sensitive data.